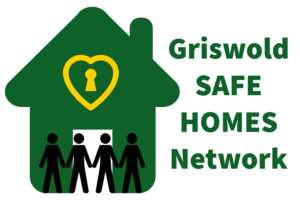 Griswold Safe Homes Network
Because we are in this together!
The Safe Homes Network is an effort to alleviate some of the anxiety parents face as their children meet new friends and become more independent, by establishing a voluntary parent/guardian network. Safe Homes is a nationally recognized program used in communities throughout the country to enhance the safety net for youth and parents and prevent underage drinking and youth drug use.
Safe Homes are homes of parents who agree to work together to create a healthy atmosphere where the illegal use of alcohol and other drugs is unacceptable. By signing the Safe Homes pledge, parents have access to a directory to communicate with other parents. This is a great way to strengthen parent-to-parent communication.  It also provides a way for parents to unite in a clear "NO USE" message to youth and provide a safer environment for their children. The best prevention is parent involvement!
We are asking participants to keep their home safe for teens and become a member of the Griswold Safe Homes Network. After signing the pledge, members will be listed in a directory which will ONLY be available to other network members. Parents/guardians may refer to this directory when making decisions with their teen about attending social events. Directory listings will not be sold or shared with any other organizations; it will ONLY be used for Safe Homes Network. Please consider signing the pledge carefully. Other parents are relying on your sincerity. It is illegal to permit a gathering where youth under the age of 21 consume alcohol or use controlled drugs.
What are the benefits of joining?
Open communication with other parents in the Safe Homes Network
Access to the Griswold Safe Homes Network Directory
Strength in numbers: Protect your children more effectively by joining forces with other parents
Resources: PRIDE will provide you with additional materials to clearly communicate family expectations about substance use to your children.
An invitation to CALL & CONFIRM when a party is taking place at a member's home.
Let's your kids know you care… where they are going, who they are with, what they will be doing and when they are to return home.
What am I expected to do as a ​member of the Safe Homes Network?
Maintain the pledge principles within your home
Talk with your children about the pledge
Reach out and talk to parents of your children's friends.  Don't assume other parents have similar values as you.  
Discuss the pledge and your expectations!
Contact Us
mnagle@chrhealth.org
Coalition Members
American Ambulance
CHR
Children's First
CT Dept. of Children and Families;
CT State Police
Eastern Savings Bank
Griswold Public Schools
Griswold Senior Center
Griswold Town Government
Griswold Youth & Family Services
Lisbon Lions Club
Jewett City Borough Officials
Jewett City Savings Bank
Matt's Mission
Natchaug River Young Marines
Quinebaug River

Church
SERAC
St.

Mary's Church                                                         
Streaming News and Sports Network
United

Community and Family Services

Uncas Health District
United Services
Parents, Residents, and Youth